So, What Are The Benefits Of Strike Off?
Immediate steps can be taken to start closing your company.*
It's cheaper by far that liquidation.
No formal meeting of creditors.
It's possible to write off thousands of pounds of bad business debt.*
* conditions vary in each business, but we always explore the detail of the business before proceeding.
Our service is one third or less the cost of a comparable liquidation, both have the same effect; your company closed down.
Want to know more about the cost benefit?
Click this to show more information.
The Benefits of Our Strike Off Service
Strike Off can be a great alternative when closing a limited (Ltd.) company. Let's look at the more common procedure used to close business in the UK - Liquidation.
It's a fact that the vast majority of business closes via liquidation, and the inclusive actions of an insolvency practitioner.
Relative amount of closures by method.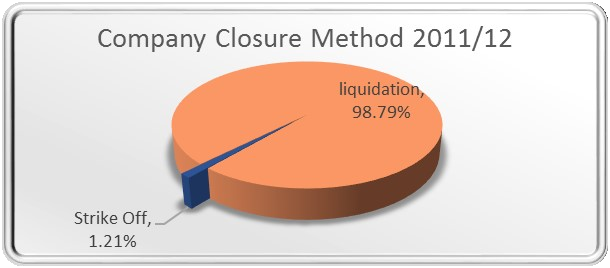 So if most choose Liquidation, why should I choose Strike off?
What 'most' don't realise is that liquidation is an expensive procedure the base cost alone can be in the region of two or three thousand pounds. Our Strike Off Service, which can achieve the same goals as a liquidation starts from as little as six hundred pounds.
A comparison of service cost for company closures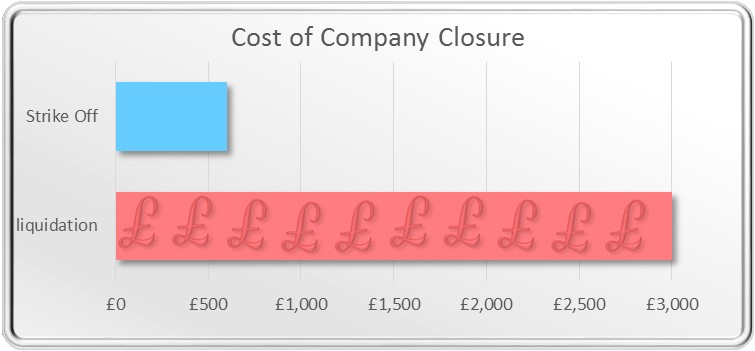 What Can We Do For You?
Along with the vast savings that can be made we save time as well,
We prepare a comprehensive set of reports, we then send these to any creditors or interested parties. Doing this means one very important thing it overcomes the likelihood of the company being brought back and ensures that once the company is closed, it stays shut.
We give you the chance to purchase assets from your company, a liquidation would claim all assets which then are taken by the crown, but a Strike Off does not demand this.
We can arrange independent valuation for asset, doing so ensures that the company directors are not seen as fraudulently operating the company / asset stripping.
Our service also gives protection against S.216 IA '86 re-use of company name provisions.
You are not obliged to hold a meeting of creditors, another function demanded by a liquidation. We can from start to finish take ownership of the procedures allowing you to start moving on.
We deal with HMRC and Companies House on your behalf, we handle all mail regarding the closure, even mail from creditors or suppliers.
From the moment you allow us to take on your closure, we take full ownership, we begin immediate action and we guarantee to reach the outcome you want.
We have a 100% success rate in what we do.
97% of our passed clients have rated our service "good" or "excellent"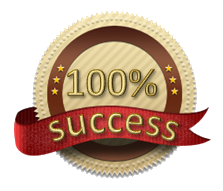 It's time to take action. If you want your business or company closed, CALL US - 0845 409 4471 start the process today.

Fill out the form below and find out more with our FREE guide.
Could You Benefit From a Strike Off ?

Get Your FREE Guide.

voluntary strike off process application to dissolve closing down a ltd company application to strike off a company closing down a limited company how to strike off a company dissolve a limited company winding down a company shut down my business